Happy December! Originally, I was going to make this post an in-depth review of my favorite albums from this year, but then I started thinking about all of the other great media that gave me inspiration, motivation, and hope in a year that was far too full of dark moments. While it's far too easy to dwell on those times that we felt defeated, I figured it would be fun to share all of the great pieces of art, moments of brightness, and other doses of positivity that were shared in 2017…in my opinion, that is. And because I feel the need to tell anyone who will listen why I love the things that I love, these categories seemed like a great way to round things up this year.
Album
I originally had about six albums chosen for this and I narrowed it down to two and I refuse to make any more cuts. I REFUSE!!! (But I'll include honorable mentions because I'm weak: Reputation by Taylor Swift, Dua Lipa by Dua Lipa, About U by MUNA, and What If Nothing by Walk the Moon). I'm notoriously bad at picking favorites, but this was definitely the most difficult category for me to decide, so it's gonna be a tie between *drum roll* Betty Who's The Valley and SUPERFRUIT's Future Friends. This year was clearly all about my obsession with synthpop. In fact, I didn't realize I had a favorite genre until I was considering which of the albums from this year I loved the most. But as you can see, both of the masterpieces I chose as my top favorites are composed with similar styles. I'm obviously not a music expert so I don't know all of the technical language to describe them. And yet, I can understand what I find so special about each of these works. These albums are both so fresh and vulnerable and bright and run the gamut when it comes to emotions. Falling in love? Check. Just ended a relationship? Check. Need to help your best friend get over a break up? Need an upbeat self love anthem you can sing in your mirror on your bad days? Need a romantic ballad you can sing in the shower even though you've never been in love before? These. Albums. Deliver. It. All. You'll want to dance around to the catchy jams and text all your friends how much you love them and be proud of all that you've accomplished…and the epic vocals are just a plus.
Song
While I'm still not so patiently waiting for a new full length album from one of my pop queens, the single "Cut To the Feeling" Carly Rae Jepsen released this year did not disappoint. I'd say it was just enough to hold me over for a little longer. (An emphasis on the little, I hope). I'm always a big fan of fun pop jams, but this year, I found myself craving the taste of lighthearted and feel-good songs more than ever…for obvious reasons. Truth is, I don't think I've met a Carly Rae Jepsen song I didn't like. I firmly believe she is far beyond her years when it comes to talent; her ability to put on an sonically cohesive and satisfying album that gives you tastes of 80s pop that can be blended into the pop we hear on the radio today feels effortless. And frankly, the rest of y'all have slept on her post "Call Me Maybe" career for far too long. I'm putting it out there now: let 2018 be the year the pop world fully appreciates the genius that Carly bae truly is.
Book
I have been talking about The Hate U Give by Angie Thomas to anyone who will listen all year. I even have a previous blog post completely dedicated to why I love this book, so I don't need to go into detail here. But I will say that this book is not exclusively for folks who read young adult literature. I truly believe it's required reading for anyone who enjoys a good story that leaves you thinking long after you read the last page. The story captures the narrative of the Black Lives Matter movement in such a moving first hand experience that I can't imagine the reader not being affected by Angie Thomas's words. Plus, it's being made into a movie and the cast is bomb. So make sure to read the book before you head to the theater.
Network TV Show
I started watching The Bold Type against my usual reservations when it comes to brand new series. I usually wait a few season for the show to gain traction before I start watching, but I'm so glad I made an exception for this show. It airs on Freeform, which isn't often the best selling point, but this show exceeds expectations in so many ways. The show centers around three 20-something women living in New York, working for a magazine themed around women's empowerment. Plus their boss is an equally badass woman who gives them both guidance and freedom to explore the possibilities of their careers. I know this may sound like a cookie cutter example of a show that's exploiting the current wave of feminism women are passionately getting involved in right now, and in all honesty, that might be their intention. I don't blame them. My goal is not to figure out whether or not their intention to share these stories are playing off these cultural clues simply for success – that's likely the goal of every entertainment outlet. But lucky for us, sometimes the result of this intention is a brilliant representation of thoughts, ideas, and movements that we've been lacking on our screens. I really think that's where The Bold Type truly earns its success. I dare you to watch this show and not be inspired to take down the very next person who tries to steer you further from your goals.
Streaming TV Show
I don't watch many streaming shows, mostly because there's too many to choose from and I get overwhelmed very easily. But this year, I couldn't help but drive right in to One Day at a Time as soon as it was released. I'm much more likely to gravitate toward half hour comedies, shows with diversity, and stories I can relate to. With this show, you're guaranteed a stellar three for three. First of all, anything that highlights the brilliance of Rita Moreno is an automatic win for any living breathing human. The cast is then rounded out with a group of actors that beautifully and authentically bring the Alvarez family to life. Along with the laughs, the show delivers so many relatable storylines; they represent this family with genuine care and attention while also keeping it fun and entertaining. You can see the truth without getting wrapped up in painful drama. You instantly fall in love with this family, their traditions, their ambitions, and their complicated yet rewarding relationships to their own personal identities and to each other. Also, I am painfully and wholeheartedly the white Elena Alvarez.
Broadway
When I first heard about Come From Away, it was described to me as a 9/11 musical. Which, let's be real, does not sound like a good idea at all. Sure, you can make successful musicals about sad things (see: literally all of my favorite musicals), but this was something I didn't quite understand the intention behind. But when I learned that this wasn't simply a musical about 9/11, but a musical that explores the days following the event from the perspective of a group of rerouted travels in Canada, my skepticism eased and I was a lot more open to the idea of seeing it. I knew it would still be an emotional ride, but as I already said, I sort of have a thing for musicals that make you feel and the feelings and cry all the tears. One of my favorite things about theater is that it's both entertaining and evocative right in front of your eyes. You have an experience that is so immediate and so vicarious that it can be overwhelming in the best way possible. And this couldn't hold truer with Come From Away. Not only is the story told beautifully through captivating songs, an incredibly talented ensemble, and even some laughs, but the message of the show is something we all need to hear, see, and believe, especially at this moment in time. It makes it even more powerful that the show is based on a true story. This production allows us to explore the ways we respond to tragedy, the power of selfless kindness, and the proof that at our very core, we're capable of unconditional love and care for one another, family and strangers alike.
And because I love to hear from *~my fans~* here are some suggested fun favorites from 2017.
Favorite Meme – "First of all…" Some faves:
Favorite Baby Animal GIF – I believe in you, little pup.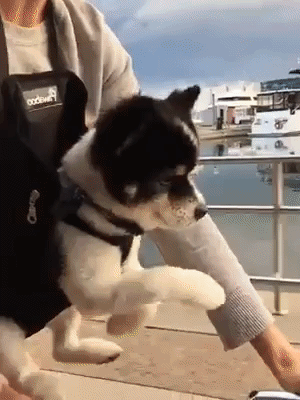 Favorite Internet doggies – Bagel and Chanel moved into the Gardens this year and I love them so much!!!!
Favorite Vacation – Not only was Disney incredible, but specifically, the Food & Wine Festival is what dreams are made of
Favorite Viral Video – The only way to walk into a room
Let me know what some of your favorites were from this year! Thanks for reading, friends. See ya in 2018.